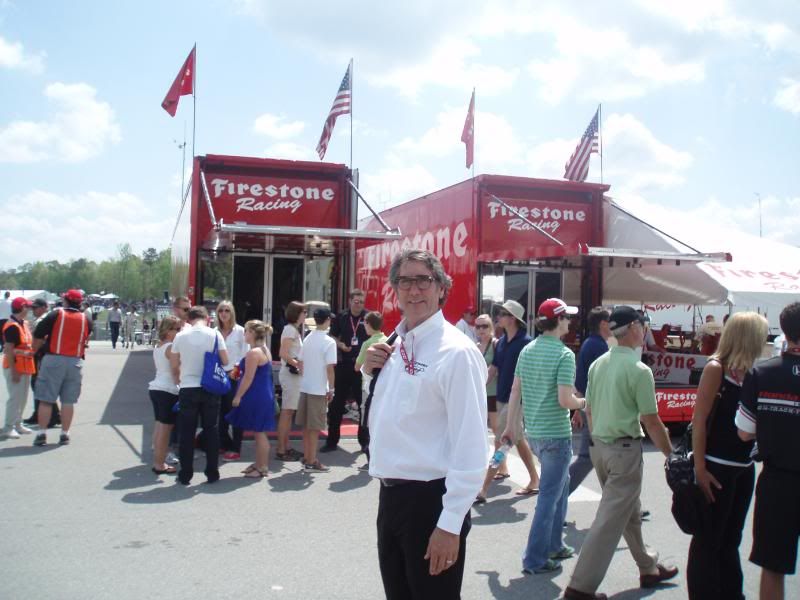 Lindy always remembers us from MidOhio 3 years ago...same with Lauren Bohlander, who is fantastic! She remembers Jackson's name most of the time. All the drivers, and we have our favs, are great with kids. I have similar pics with my kids and Danica, Marco, Dario, Dixon...etc
Moral of MY story? I'm an oval guy by preference, but I will be the FIRST to tell you...if you wanna see the cars up close...meet drivers....spend time talking with drivers....drivers in MULTIPLE series. Ya gotta go to a road course. Yeah they might suck visually on TV, but it's because they are so damn good at what they do. ALL of them. The F1 guys....SeaBass, Wilson, Barichello...they are warm, enjoyable people. Pippa was FANTASTIC, and watching! These are simply great people doing what they love
The National Guard people threw my kid up on a bad ass hummer and let him crawl around....my 7 (almost 8) year old "modern warfare" addict (let's discuss my parenting later!) is getting to touch "army guy stuff". They are giving away HotWheels and 3d posters of JR....
I had some cool talk time with Pippa....discussed Vegas, racing in general, talked about Clay Pigeon, a track my nephew raced Karts at 12 years ago....she's so REAL you could taste it. Big respect for her, and man was she good with my son and the crowd. She was actually downplaying her role of "garage tour guide" on the mic to the crowd. When I asked my question, I led with "Don't EVER sell short a tour guided by someone that has started in the Indy 500!". I hope things work out to give her another shot this year....and she still wears "sleeves" on her fingers from October....Nasty that day was....
We got to "grid" cars for the continental tire race....heard 1 driver wish another luck, heard the second driver basically say "f off, remember Mid Ohio last year?"....set up a tent after midnight with my son....then helped a couple an hour later do the same....their first race of any kind...turns out they LOVED the look of the new car, had never really seen the old one....NEW fans! They are the couple holding the flag with my kids....early 20's, hooked! I let them listen to my scanner....they loved it!
We all get chances to show off this fancy shiney toy we take for granted and complain about! I do my bitching here and get it out....I'm straight ambassador schill on the road
. My God I love this sport....from sitting on my dads shoulders mid 70s at Indy, to returning the favor year round with my kids everywhere I get lucky enough to go.....
I'll see you all out there....Indy, Milwaukee, Mid Ohio, Baltimore.....and hopefully Belle Isle....just grumpy there is not Michigan, Kentucky, Chicagoland, and Road America to add to the list
God Speed race fan! Make the most of it